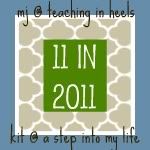 (please forgive my bangs in this picture!)

This topic is sort of hard to write about just because I just LOVE the holidays. I love shopping for other people, I love baking, I love the smells, I love being with family, and I love all of our family traditions.

So, I guess my favorite holiday memory would have to be any of the many memories of Christmas pasts. Every Christmas morning, my family wakes up (fairly early) to exchange presents and have a big home-made breakfast made by my Dad. This Christmas was no exception, my sister and I decided to spend the night on Christmas Eve despite the fact that neither of us live "at home" any more. This year also had the added addition of two furry friends, my beloved Mere Bear and my parent's dog Penny. Meredith and Penny get along wonderfully :)

Every Christmas my Dad makes a couple of batches of home made egg nog, we always eat Christmas dinner at my Grandma's, and we always ask what ever happens to those pictures we take every year?

I think this year was a little more special just because Cassandra and I dont live with my parents and we made the effort to keep our Christmas traditions in tact. I also loved having my Mere Bear to spoil a little this Christmas season!